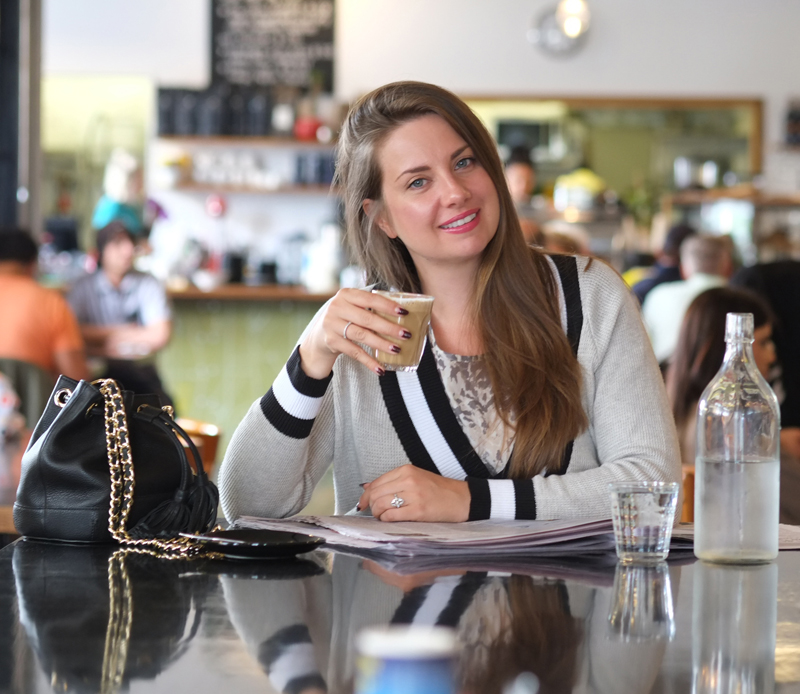 I got into a conversation during VAMFF with a fashion designer friend who had a tonne of misconceptions about what bloggers do and how they work. The main gist was, 'Everyone has a photographer, and everyone is rich.'
'Ahhhh, not quite!' I said.
And then I thought, if no one explicitly tells you, you could be mistaken for thinking exactly what as she does. I'm not immune from scrolling through instagram thinking, 'My god, how on earth can she afford that $6000 Gucci handbag? Last week she had a Chanel Boy hanging off her arm. Sigh.'
And so here are five things that after 11 years of blogging, I can reveal you might not know about Lady Melbourne. I'm sure that at some point I've revealed them all, but aside from Mum who's been reading all these years (hi Mum!) I can't expect the rest of you have. So here goes!
I take all my own photos.
That's right, there's no photographer on my payroll or doing it out of the kindness of their heart. When I started I didn't have anyone to take photos for me (you can tell, I dare you to go back 10 years) so I simply had to learn how to use a tripod, remote control and DSLR camera. It's easier than you think, you have complete autonomy over your imagery and can pretty much set up a photo shoot anywhere you like. There have been times over the years where people have taken photos of/for me, but unless its otherwise stated, I do it all myself. If you want to read some of my tips, here's a post I did on how to take beautiful self portraits, and here's one on iPhone photography.
2.I don't colour my hair.
The last time I coloured my hair was in 2003. So that's 15 years ago. People ask all the time, 'Who colours your hair? Where do you get your hair done?' And the answers always the same.
3. I buy my clothes
I'm extremely lucky that over the years, I've been gifted many different types of things Рclothing, bags, holidays, meals etc. And while this does happen (not to the extent of my blogging hey-day of 2009-2010, ah the good old days) I actually buy a lot of my clothes and the things you see on the blog. Of course influencers with  large followings not only get stuff given to them, but get paid to wear or use it as well. But for the majority of people out there in the blogosphere its a mixture of some gifting, some borrowing and spending their own money. It's simply a myth that you get everything for free.
4. I'm not rich
Well, not in the financial sense of the word! I work about three different jobs to keep the wheels spinning on Lady Melbourne. A university lecturer in media and communications, a freelance writer and a content producer. All of them revolve around the blog and blogging, but there's not some benevolent fashion matron bestowing me with flowing cash so I can revel in Chanel all day long. There is no sugar daddy, there is no trust fund. I work and always have done, a fact of which I'm really proud.
5. Blogging is easy
Well, it's not rocket science, and its not as though I'm sitting in front of mathematical algorithms all day trying to find an answer to deep space gravitational behaviour.
There is however a little bit more to it than simply taking a picture and spilling some words onto the internet. Every piece of content I write whether it's for the blog or for freelance gigs is researched and edited. This can take me hours sometimes. Take my last post on peat masks from Estonia. Just trying to work out what peat was in the first place, then taking the science jargon out of the mix and distilling it into a short paragraph that would explain its benefits, took me two hours.
Good writing isn't just about having great ideas, its about being able to communicate them in a succinct manner that people can understand. On top of that, I take all my own photos which means I've had to learn how to use a DSLR, and in turn Photoshop so I can grade and edit them.
But most importantly I've got to generate most of my own work. This means I'm constantly in touch with PR's, brand managers and designers to keep on top of what's happening in my industry. I'd attend at least two events each week, more when its fashion week or the spring racing carnival.
Did I mention keeping up with what's going on in the industry? There's a lot of reading that goes with what I do as well. Having to keep on top of Google's algorithm changes, understanding Facebook's ad system or the latest social media app. I read cNet, Mashable, New York Times, The Guardian, Forbes.com and Wired.com on top of all of my fashion reads like Business of Fashion and Ragtrader.
So there you have it, five things you might not know about Lady Melbourne and the blog. Got more questions? Just ask, I'll endeavour to answer!
The post 5 Things You Might Not Know About Lady Melbourne appeared first on Lady Melbourne, a fashion blog from Melbourne.